Don't Shut Up 2018
In March of 2018, I did a presentation at Ceres gallery in NYC and another at the Art Lab on Staten Island, NY about the silencing of women and the raising of women's voices. The issues were explored through panel discussions and a power point presentation of over 60 artists' images amassed though an open call to women across the country.
Through interruptions, censure, violence, threatening behavior, both in person and online, women are silenced every day. It's time to ensure that women's voices are heard and valued.
#MeToo #NeverthelessShePersisted #DontShutUp
Don't Shut UP, is a further iteration of a month of programs and exhibitions presented by the San Diego group, FIG (Feminist Image Group), in July 2017.
Panelists at Ceres:
Katharine Bodde, Senior Policy Counsel at the New York Civil Liberties Union NYCLU
Brittany Brathwaite, MPH, MSW, Organizing and Innovation Manager at Girls for Gender Equity (GGE)
Joanne Mattera, Artist, feminist and blogger
Panelists at Art Lab:
Lorie Honor, founding member of Staten Island Women's Club and the Staten Island Women who March
Shereese A. Mullings, Actress and Program Development and External Director Island Voice / Canvas Institute
Julienne Verdi, Principal Attorney of J. Verdi Law LLC, Chair and Founder of Move Forward Staten Island
artists
Nancy Azara • Sara Bennett • Meredith Bergmann • Marcia Bernstein, • Jo-Ann Brody • Lynda Caspe • Pauline Chernichaw • Patricia Dahlman • Loren Dann • Lisa Mee Doherty • Susan Duby • Evelyn Eller • Loren Ellis • Everet • Phyllis Featherstone • Rachel Finkelstein • Sharyn Finnegan • Ayana Friedman • Susan Newmark Fleminger • Elisabeth Frischauf • Betsey Garand • Laura Gelsomini • Joan Giordano • Carol Goebel • Susan Grabel • Luba Shapiro Grenader • Carol Hamoy • Marsha Heller • Melanie Hickerson • Elizabeth Featherstone Hoff • Leigh Jerome • Carla Rae Johnson • Susan Kaplow • Carole Richard Kaufmann • Mary Anne Kinsella • Helen Klebesadel • Stephanie Kosinski • Beatrice Lebreton • Linda Litteral • Cynthia Mailman • Virginia Maksymowicz • Willie Marlowe • Ann Marie McDonnell • Gonzalo Mercado • Cabell Molina • Laura Morrison • Marjorie Morrow • Toby Needler • Vernita Nemec • Ruth Bauer Neustadter • Gail Panske • Judith Parenio • Vicki Pacimeo • Kristi Pfister • Helen Redman • Kristin Reed • Louise Reiner • Marilyn R. Rosenberg • Pamela Shields • Susan Tunick • Jenni Vitek • Elizabeth Weiner-Cohen • Joyce Ellen Weinstein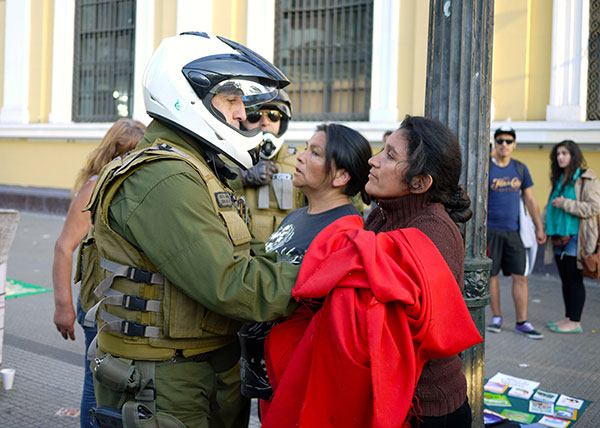 Women Under Siege: It's Happening Right Here 2017
I became aware of the criminalization of pregnant women in 2013 when Ceres mounted the exhibition, Meet My Uterus, about the assaults on women's reproductive rights across the country. As part of the programming for this exhibition, we invited Lynn Paltrow from National Advocates for Pregnant Women to speak at a panel discussion. As I was pouring through the casework done by NAPW and further researching the issues, I also became aware of the criminalization of survivors of domestic violence.
I found myself both shocked and outraged by the sexism and misogyny implicit in laws in many states being used against pregnant and abused women. I felt compelled to bring these stories to the public's attention so we can all bear witness to these miscarriages of justice happening right here in the "exceptional" USA.
I chose the stories of 25 women and invited artists I knew to select a woman whose story resonated with them and make art in response to it. The results, in painting, collage, printmaking, drawing and sculpture were shown at Ceres Gallery, NY in January of 2017 and a shortened giclee version was shown in 2018 in Norman, Oklahoma at the Red State Reproductive Justice conference.
Panelists at Ceres January 11, 2017:
Lynn Paltrow, JD, is the founder and Executive Director of National Advocates for Pregnant Women ("NAPW"). Ms. Paltrow combines legal advocacy with grassroots and national organizing and policy.
Jennifer Johnson, MS, MALS,(center) "Racism and Sexism is deeply rooted in the Criminal Justice System. There has been no paradigm shift in the prosecution of pregnant women who suffer from Mental Health and Substance Abuse disorders."
Jesenia A. Santana (center) is program officer for the NoVo Foundation's initiative to End Violence Against Girls and Women, previously worked with STEPS to End Family Violence, and is co-chair of the Violence Against Women Committee of the Coalition for Women Prisoners
Colby Thompson is a formerly incarcerated artist, activist, speaker and author who is creating a program to heal and empower people involved with the justice system, or imprisoned by anything in their lives.
Margaret Ngunang, LCSW, is the Clinical Supervisor for Sanctuary for Families' Sarah Burke House Shelter. Ms. Ngunang is a voice for women's empowerment, embracing issues of gender, domestic violence, immigrant support, homelessness and poverty.
Linda Lopez, JD, is Deputy Director of the Center For Battered Women's Legal Services at Sanctuary for Families. She is a seasoned practitioner of Family and Matrimonial law and founder of the Uncontested Divorce workshop.
artists and the women whose stories they told
Pauline Chernichaw / Astasia Clemons • Loren Dann / Laura Pemberton • Anne Drager / Kari Parsons • Everett / Regina McKnight • Phyllis Featherstone / Samantha Burton • Susan Grabel / Tondalao Hall • Melanie Hickerson / Anne Bynum • Elisabeth Featherstone Hoff / Alicia Beltran • Judith Hugentobler / Martina Greywind • Mary Anne Kinsella / Amanda Kimbrough • Marilyn Kiss / Purvi Patel • Helen Klebesadel / Tamara Loertscher • Stephanie Kosinski / Kenlissia Jones • Marjorie Kramer / Arlena Lindley • Tania Kravath / Bei Bei Shuai • Barbara Lubliner / Jennie Linn McCormack • Lynne Mayocole / Marissa Alexander • Ann Marie McDonnell / Jennifer Jorgenson • Christine Mottau / Melissa McCann Arms • Denise Mumm / Michelle Marie Greenup • Perri Neri / Nan-Hui Jo • Ruth Neustadter / Tanya Mitchell • Kristi Pfister / Michelle Mitchell • Rhoda Pierce / Alishia Mackey • Elizabeth Downer Riker / Barbara Sheehan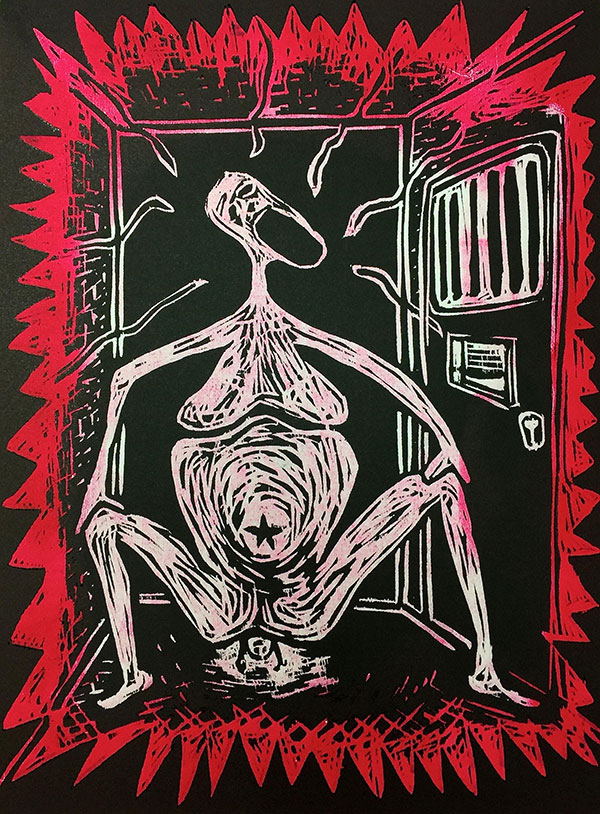 Lunette des Femmes 2013
I began Lunette des Femmes in 2013. It is an on-going project honoring the inspirational accomplishments of 20th and 21st century women. A digital frame is set into an opening of a paper clay lunette showing a continuous loop of portraits of the women. The dancing women in relief on either side of the opening reference ancient Greek and Indian temple art. A folder with short bios accompanies the piece and viewers are encouraged to leave names of women to be added on post-its on the pedestal